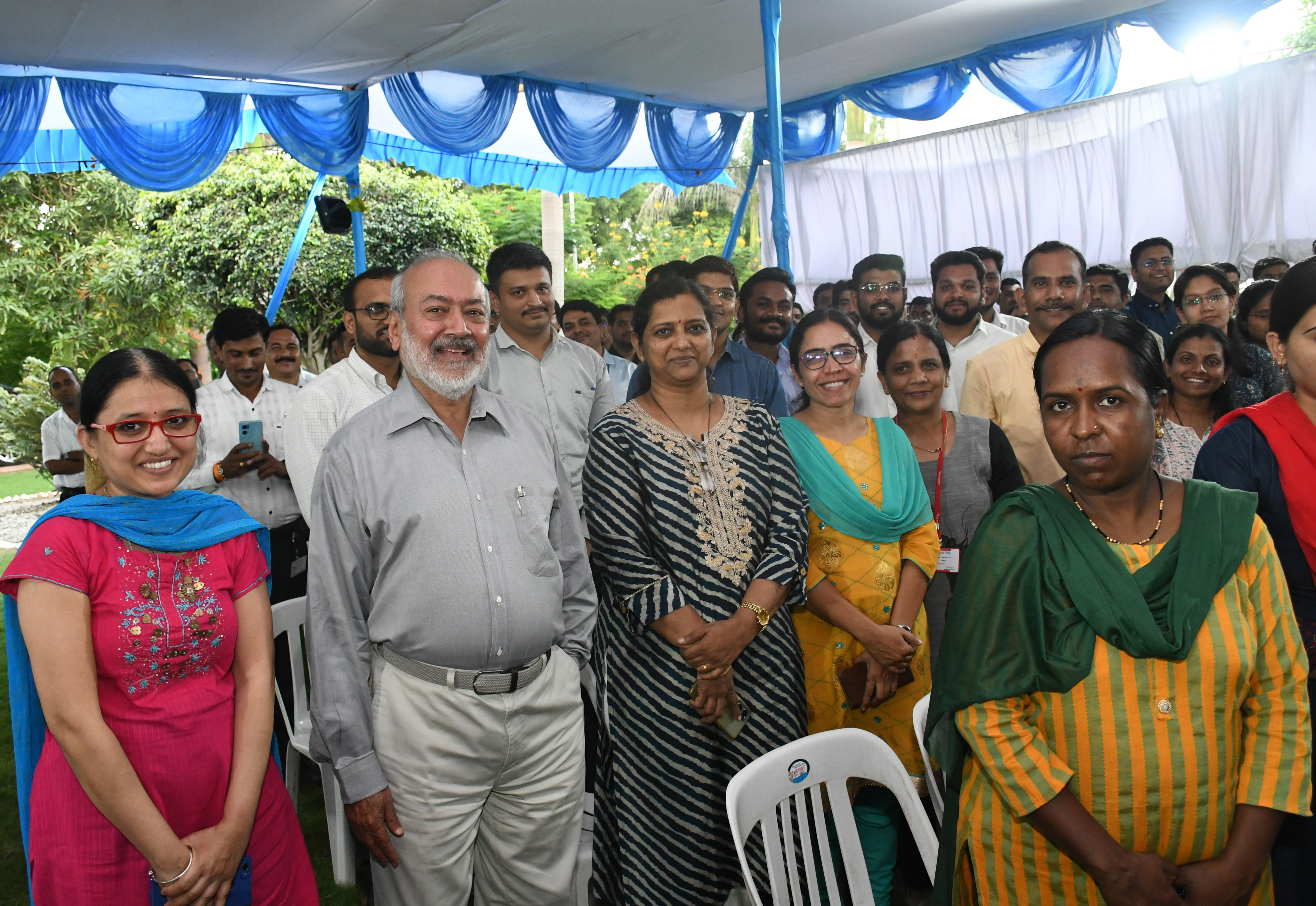 Over 3,000 people and 27 nationalities with a global work culture and a global mindset, make Wockhardt a truly global organisation.
Every Wockhardian is in tune with the organisation's ultimate goal to ensure that Life Wins, and has imbibed the intrinsic values of doing the right thing in the right manner. A passion for excellence, a commitment to quality, and a desire to grow the organisation as well as themselves, characterizes Team Wockhardt worldwide.
Wockhardt's work culture that considers human capital to be its most valuable asset has ensured that Wockhardt, Wockhardt Hospitals and Wockhardt Foundation have all won leading ranks in the prestigious 'Great Place to Work' Survey.
Year after year, Team Wockhardt is consistently recognised and acknowledged at various Indian and international fora. The numerous awards for excellence won across functional roles, both at an individual and organisational level, is eloquent testimony to the common thread that binds Team Wockhardt across the organisation.
Mr. RAVI LIMAYE
Managing Director – Wockhardt UK
Ravi Limaye is the Managing Director of our UK facility. He is based out of UK. He is responsible for all the roles in manufacturing, commercial, business development, sales, marketing and general management.
He holds Master's degree in Pharmacy and completed his MBA in Marketing from Jamnalal Bajaj Institute, Mumbai. Ravi brings with him over 30 years of domestic as well as global experience in all areas of pharmaceutical industry i.e. Commercial, Business Development, Corporate Strategy and General Management. He has worked in global companies like Glaxo Smith Kline, Novartis, Ranbaxy and Biocon.
He provides leadership for the overall business for CP Pharmaceuticals and Wockhardt UK Ltd and grow the business in these regions through strategic business initiatives across sales, marketing, manufacturing and operation functions. He was bestowed with an OBE (Officer of the Order of the British Empire) award by His Majesty The King in recognition for services to health, particularly during the COVID-19 pandemic.
Mr. AJAY SAHNI
Managing Director – Wockhardt Bio AG; Managing Director – Pinewood Healthcare; President – Wockhardt France
Ajay Sahni joined Wockhardt in February 2007. He brings with him around 34 years of experience , including 25 years in the pharmaceutical industry across Europe, United States & Singapore.
He is managing both the European head office in Switzerland and the Irish business of Pinewood Laboratories, Ireland.
With an experience spanning multi-cultural environments in the US, Europe and SE Asia, Ajay is adept at bridging language and cultures in alignment with the Company ethos.
MR. GOPALAKRISHNAN VENKATESAN
President & VP Business Development – Morton Grove Pharmaceuticals & Wockhardt USA LLC
Gopalakrishnan Venkatesan is the President & VP of Business Development at Morton Grove Pharmaceuticals and Wockhardt USA, the US subsidiary of Wockhardt Limited. Gopal has a graduate degree in Pharmaceutical Sciences and a MBA from the University of Bombay, India and has worked at Wockhardt since June 1987. Gopal has also attended an Executive Program in Strategy and Negotiation at the Harvard Business School. For most of his career, Gopal has worked in Business Development and Strategic Planning at Wockhardt. In 2007, Gopal moved to the US, and helped start Wockhardt's operations in the country. Over the years, he has been responsible for M&A, business development deals and identification, development and launching of over 80 products in the US. In July 2022, he took over the role of President and is now working on realigning the Wockhardt business in USA. Prior to his involvement in international business, Gopal played significant roles in the creation of Wockhardt Hospitals and the Biotechnology businesses, as well as in M&A both in India and internationally.
MR AMRUT MEDHEKAR
President – India Branded Business, Quality Generics, CMS and Global API
Amrut Medhekar joined Wockhardt in January, 2022. He leads India Branded Business (IBB), Quality Generics and Contract Manufacturing Services.
Apart from this, he also manages the Global API business as a complete SBU with P&L responsibility.
In the role of IBB, QG and CMS Head, he is directly responsible for business results, improving our operational excellence and strengthen Wockhardt Therapy Franchise – Diabetes, Antibiotics and Pain Management.
He has over 27 years of experience in leading Sales and Marketing function across multiple therapy businesses – Antibiotics, Gastroenterology, Cardiology & Diabetes, Orthopaedics, Rheumatology, Ophthalmology. He also has significant experience in areas like Commercial Excellence & Strategy, SFE, Portfolio & Business Development, Marketing excellence & Digital, Business Insights & Key accounts / Institutions & Nepal business, apart from building some large brands.
He has done his Master in Business Administration (Marketing) and Executive MBA from IIM (Ahmedabad).
Prior to joining Wockhardt, Mr. Medhekar was associated with Zydus for 13+ years in various roles at senior leadership level. Earlier, he had worked with Ranbaxy, Torrent and Novartis.
DR. MAHESH V. PATEL
Chief Scientific Officer – New Drug Discovery
Dr Mahesh Patel joined Wockhardt in May 1998. Currently he leads the Drug Discovery Research team engaged in the area of discovery and development of novel antibiotics.
Prior to joining Wockhardt he worked with Ranbaxy Research Laboratories Ltd., New Delhi where he was Head – Microbiology of New Drug Discovery Research (NDDR). He also worked with Hoechst India Limited Bombay for 21 years, where he worked on a number of projects of diverse nature in the area of screening of naturally produced antibiotics.  While at Hoechst, he was instrumental in developing and introducing a number of innovative and functional methods and test systems which led to the discovery of six novel antibiotics produced by soil microorganism. Hoechst sponsored his post-doctoral research involving HIV virus binding to human cells at National Institutes of Health.
Dr Mahesh Patel holds a PhD from the University of Bombay and a Post Doctorate from the National Institutes of Health, USA
AVIJIT DEB
Chief Digital Officer – Information Technology

Avijit Deb joined us as Chief Digital Officer.
He has the overall responsibility of driving digital initiatives across the organization.
Avijit has done his Bachelor of Engineering (Electrical) and completed Master's in Business Administration (Marketing and Finance).
He has a total work experience of 23+ years. He is a seasoned business and technology leader with experience of in several digital transformations across industries. During his career he has been at the forefront of implementing several complex solutions that have resulted in operational excellence and cost benefits.
Prior to joining Wockhardt, he was associated with Vedanta Ltd. where he was Chief Digital and Information Officer. He has also worked with organizations like Hewlett Packard Enterprise, Wipro Technologies, Tata Teleservices, Aditya Birla Retail, Ashok Leyland, Reliance Industries etc.
DR. SANJEEV KUMAR SHARMA
President – Biologics & Global Quality, Biotechnology
Dr Sanjeev Sharma is the President – Biologics & Global Quality. He has the responsibility and accountability of Biological Operations for Research and Development, Drug Substance & Drug Product Manufacturing and Regulatory Affairs. He also heads the Global Quality function of the organization.
In his professional career, he has worked across the end to end value chain in technical operations.
Sanjeev is a Ph.D. in Microbiology from Punjab Agricultural University. He has also done his MBA – Operations Management from ICFAI and has completed his PGD – Intellectual Property Rights. Sanjeev has over 23+ years of rich experience in R&D and manufacturing operations coupled with QC, QA and RA in Biopharmaceuticals.
Prior to joining us, Dr Sharma was associated with Biocon at Malaysia, leading Drug Substance Manufacturing, Manufacturing Support Services and Process Engineering teams. He also worked with companies like Ranbaxy Labs, Reliance Life Sciences Ltd, Unichem Labs Ltd., Pfizer Ltd, etc.
MR. DEEPAK R. MADNANI
Chief Financial Officer – Finance
Deepak Madnani is currently the Chief Financial officer for Wockhardt Limited. Deepak has nearly 22 years of leadership experience in Financial Operations covering Financial Reporting, Budgeting & Forecasting, Cash Flow Management, MIS Reporting, Auditing and Statutory Compliance with Proven abilities in leading implementation of systems/procedures to achieve financial discipline and enhance process efficiency.
He has been associated with Wockhardt in various leadership positions within the Finance role for more than a Decade. Prior to joining Wockhardt, he was associated in finance roles with Companies like Lifestyle Retail, Spencers. He is a Commerce Graduate and holds a Masters' Degree in Financial Management. His repertoire of experience includes Process orientation, Operational structuring, Driving operational excellence and Investor Management.
MS. DEBOLINA PARTAP
Sr. Vice President – Legal
Ms. Debolina Partap, Sr. Vice President Legal and Group GC, Wockhardt, is a Gold Medalist in masters of law and has 29 years of experience in banking, finance, pharma and healthcare. She is responsible for all corporate legal work including M&As, IP and Litigation Management, legal compliance, transactions management, real estate transactions amongst others.
She advises top management on legal risks to the organization. She has contributed tremendously to COVID-19 vaccine contracts. Her main achievements come in settling complex financial cases and arbitrations filed against Wockhardt Limited, complex multi-jurisdictional arbitrations on commercial disputes and settling intricate derivatives suits filed against Wockhardt group globally.
She is also handling legal issues pertaining to complex and composite global regulatory matters concerning Wockhardt Group. She is one of the few general counsels globally who handle forensics and data analytics. She and her team have won over 100 awards from internationally and nationally recognized legal organizations.